Anacharsis features in both the title and the opening two stanzas of "From the Packet of Anacharsis":
"In his packet, Anacharsis found these lines:/ 'The farm was fat and the land in which it lay/ Seemed in the morning like a holiday.'// He had written them near Athens. The farm was white. The buildings were of marble and stood in marble light./ It was his clarity that made the vista bright.
Who is Anacharsis?
According to his entry in the Oxford Classical Dictionary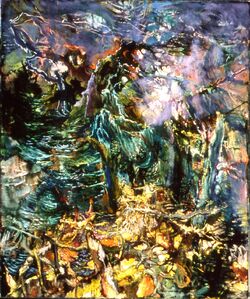 , Anacharsis was a Sythian prince, widely traveled, who became known in Athens as an exemplar of the "wise barbarian." Little is actually known of Anacharsis; his works have not survived. What is known has been compiled from references and citations by other sources, the earlies of whom is Herodotus.  Anacharis is considered to be the author of ten letters and some fifty sayings, wherein he "extols the ideal simple life of the Scythians."
What is Anacharsis Doing in this Poem?
Edit
Anacharsis is one of three men named in the poem, the others—according to Eleanor Cook's Reader's Guide —being the nineteenth century painter Pierre Purvis de Chevanne, known for his soft focus and gentle colors, and the twentieth century expressionist painter Hyman Bloom. The poem dramatizes a centuries' long game of Chinese whispers in which Anacharsis' written observations of a rural scene are variously re-presented in paint by the other two artists. Thus the poem tracks an "accumulation" of distortions imposed on the original scene. However, rather than lament the loss of a primal reality, Steven's celebrates the act of remaking, with all its divergent repetitions, as necessary: a means of establishing an artists' unique, individual relationship to both her/his subject matter and to inherited artistic tradition.