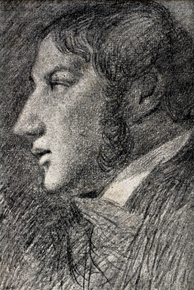 John Constable has a brief cameo in "Like Decorations in a Nigger Cemetery":
"John Constable they could never quite transplant/ and our streams rejected the dim Academy" (xxvii.1-2).
Who is John Constable?
Edit
John Constable was a British landscape painter (b. 1776, d. 1837) known for his paintings of Dedham Vale and celebrated for his treatment of skies and clouds. Associated with the Romantic school, Constable's aesthetic leanings are apparent in his commitment to locality as well as to his investment of passion in his work.  As he said of his own work, "I should paint my own places best", and of painting, "[it] is another word for feeling" (John Constable: Complete Works).
Never financially successful during his lifetime, Constable was only admitted to the Royal Academy late in life, at the age of 52. Today, however, his paintings are "among the most popular and valuable in British art"
("John Constable: Complete Works").
What is Constable Doing in this Poem?
Edit
Constable's presence is opaque, but may be somewhat explainable in reference to Stevens' discussion of artistic decline in xxv. Here, Stevens writes: "From oriole to crow, note the decline/ In music. Crow is realist. But, then, Oriole, also, may be realist" (xxv.1-3). If one reads the oriole/crow binary in light of the division between romanticism and empiricism, then Stevens seems to be commenting on the 20th centuries' movement from romanticism back to empiricism, and perhaps to rational positivism. The implication is not only that romanticism is preferable, but that the Romantics' positioning of the imagination as fundamental to perception (a la Kant) makes them realists in a way that mere empiricism cannot grasp. Two stanzas later, when Constable appears, Stevens marks the inability to transplant an artisitic taste for the romantic Constable from Britain to America. It may be then that Stevens' is aligning modern American aesthetics with empiricism and positivism, as well as, in the following lines, with a sort of brute primitivism: "the Picts [a Celtic people of the Late Iron Age and Early Medieval period] impressed us otherwise" (xxvii.3).