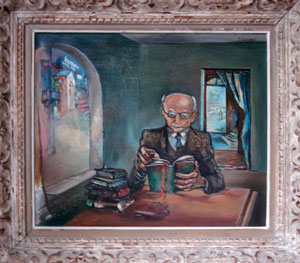 Anatole Vidal is mentioned only once by Stevens', in the poem "The Latest Freed Man." 
"The blue of the rug, the portrait of Vidal" (33)
Who was Anatole Vidale
Edit
Vidal was a Parisian book dealer who filled Stevens' orders for books and paintings, and with whom Stevens' had a casual friendship (Cook 9). Apparently, Stevens' commissioned a portrait of Vidal which he hung in his bedroom (Cook 140).
What is Vidal Doing in this Poem?
Edit
The primary theme of "The Latest Freed Man' is the attempt to throw off the yoke of convention which blocks us from seeing the world afresh. The poem concludes with a catalogue of ordinary objects, the portrait of Vidal being one, which now, for the Freed Man, strike the senses with unique force: "everything bulging, blazing and big in itself" (32).
Community content is available under
CC-BY-SA
unless otherwise noted.